We will write and build a sales page for your services
Our team will write sales content for you and publish this content on your WordPress website. In addition, we will also create a modern design for your sales page. The design will be suitable for mobile devices and desktop computers. We will describe your company and services with sales content in a way that will increase visitor's interest to the maximum level. You will get the best results if you also order our service of creating a marketing campaign in addition to this.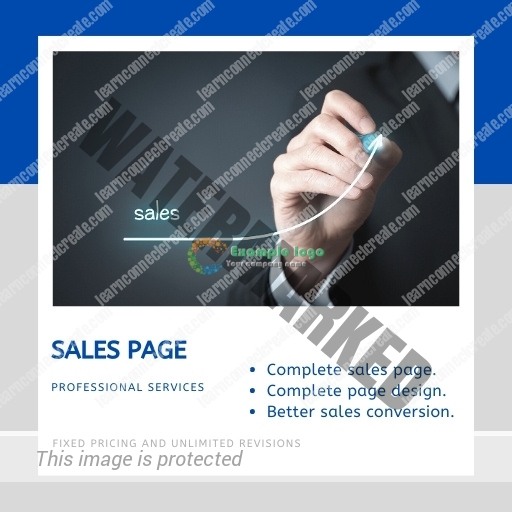 Premium
One-time payment
$495
Our best deal
Perfect package for companies that want to increase sale of their services.
Professional content creation
Description of 5 different services
Modern design on WordPress site
Delivery time 14 days
ORDER VIA FIVERR
About this service
If you want this service to help you grow your business, it is recommended that you also decide for a marketing campaign that our team can create for you. With the help of a marketing campaign, you will collect email addresses and phone numbers from your existing customers. All customers who agree that you add them to your list will receive promotional messages from you with which you will increase trust and sales. The increase in sales will be especially visible when we create a sales page for you and drive your customers directly to the sales page via SMS and email messages.
Why order via Fiverr?
We have decided to do business solely through Fiverr Freelance website because they provide our customers with completely secured payments. Your payment will not go to our team until you approve the work we have provided. It is also very easy to discuss the project via Freelance site. We regularly keep you informed how the project is progressing and at the same time you can let us know your wishes and ideas that you want us to implement on the project.
How to order via Fiverr?
Ordering through Fiverr Freelance site is as fast and secure as 1, 2, 3, 4, 5!
Register your account and placed an order.
Fill out all information about the project.
Download the app and follow the process.
Regularly communicate with Albert.
Albert receives payment once you approve the project.
Additional operational costs?
There are no additional costs if you already have a website.
P.S. We will process your order
P.S. We will process your order as soon as possible and guide you with:

1. Filling out the information about your company and the services you want to promote.
2. As soon as we receive all the information we will start working on your project and be in touch throughout the process..
What can you expect from us?
We will write sales content that will perfectly describe your services and company. You can expect us to write content the same way you would. We take time for each of our customers, writing is our passion and we always consider writing sales content as a challenge for us. We love working on details because we know they make a big difference in the business. In short: Expect good content and great design from us.
How can sales content help your business?
Many companies these days are not aware of importance of good description of offered services and their company. Every business needs to have a home page where we briefly describe the company and collect email addresses from visitors. In addition, every business needs to have a sales page where we focus only on sales. When visitors read the text they need to know exactly what services are being offered to them, what benefits to they bring them, what is the price, how and where they can place an order. Only when we present the company and services to visitors in a clear way can we increase sales.
We create content based on our experience and your requirements.

You just provide a brief description of your company and services.

We publish the content on your website and create the design.
Questions? Our round-the-clock support team is available to help anytime, anywhere. Contact us now for more information.
Always know what you'll pay upfront. Your payment is protected by Fiverr Freelance website and you have your consumer rights, your project will not be completed until you approve the work.
High-quality services at a competitive price. No hourly rates, just project-based pricing. No additional costs for our services. One-time payment.